Kristen Nuss, Taryn Kloth sweep pool in first Elite 16 event
The young Americans continue shocking the world, winning all three matches of pool to advance in Jurmala
Pubblicato 10:49, 03 giu 2022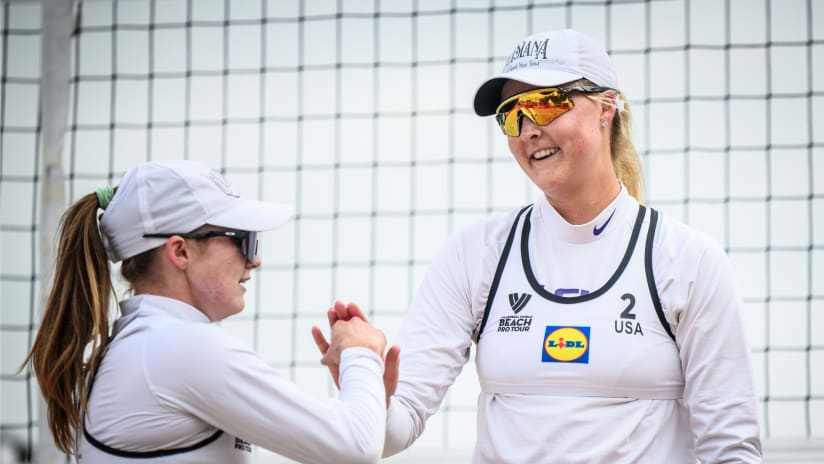 The question was a layup, a gimme with only one correct answer.
"Where," Kristen Nuss and Taryn Kloth were asked, "is your favourite place to play beach volleyball?"
They were asked this question by a Latvian interviewer, on the beaches of Jurmala, Latvia, after qualifying for their first Elite 16 main draw in Latvia, and then winning three straight matches. Coincidentally, this also occurred in, you guessed it, Latvia.
What other answer could they possibly give, other than, well, Latvia?
"I would have to say here!" Nuss said, beaming ear to ear. "This is fantastic."
Indeed, everything about this trip, a last-second, spur-of-the-moment endeavor, has been fantastic for the young Americans. As late as Sunday, they didn't even know they were in the event in the first place. But when they slipped off the reserve list and into the qualifier, they took a pair of deep breaths, scoured the internet for the cheapest and fastest flights, and headed off for their fourth tournament in as many weeks.
Already, it's paid off. They swept their way through the qualifier before winning both matches on Thursday, stunning Brazil's Hegeile Almeida and Taiana Lima (21-14, 21-19) and Olympic bronze medallists and European champs Anouk Verge-Depre and Joana Heidrich of Switzerland (27-25, 21-14). That set up a rematch of the most recent AVP final, in their home state of Louisiana, with Kelly Cheng and Betsi Flint. Already assured they were breaking pool, the pressure was off for Nuss and Kloth.
They could play free and clear, their brand of volleyball, the type that has already led them to a pair of gold medals on the Beach Pro Tour and two AVP finals this year. The result? Another win, 21-16, 19-21, 15-13 over Cheng and Flint, one which relegated their countrywomen to ninth and vaulted them to the top of the pool.
"We just played them last week in the United States at an AVP tournament so it was a fun little rematch," Kloth said. "Just getting to play against them and practice against them is so beneficial."
How beneficial, we will see on Saturday, as Nuss and Kloth will meet Brazilians Barbara and Carol in the quarterfinals. That matchup is the theme of these quarterfinals, as five of the remaining eight teams in the women's field hail from either the United States or Brazil.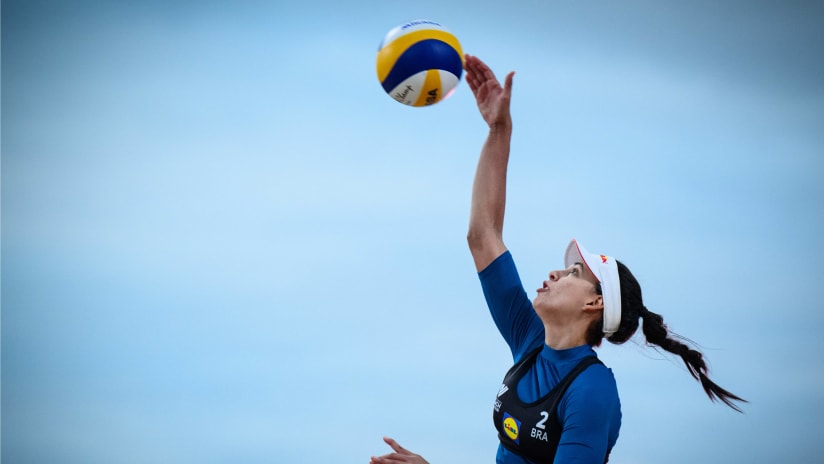 Leading the field is Brazil's Duda and Ana Patricia, who will play Verge-Depre and Heidrich. They'll play into the winner of Canada's Melissa Humana-Paredes and Sarah Pavan and Rebecca Cavalcanti and Talita Antunes, also from Brazil. At the bottom of the bracket, playing into the winners of Nuss and Kloth and Barbara and Carol, are Americans Sara Hughes and Kelley Kolinske and the Netherlands' Katja Stam and Raisa Schoon.
As Nuss and Kloth prepared to exit the interview, the interviewer had one final question for the Americans: If you had a superpower, he asked, what would it be?
Their wish was not for an ethereal ability to dig or block or serve or side out. After all this traveling, Kloth mused, it would be nice to be able to teleport home without hopping on a plane.
But that worry is for another day. The travels, for now, can wait.
They have at least one more match to play, in their favourite place to play beach volleyball.