Melissa Humana-Paredes is hungry for snacks...and a gold medal in Jurmala
The Canadian defender might have run out of snacks in Latvia, but her and Sarah Pavan are playing excellent volleyball en route to the finals
Pubblicato 09:22, 04 giu 2022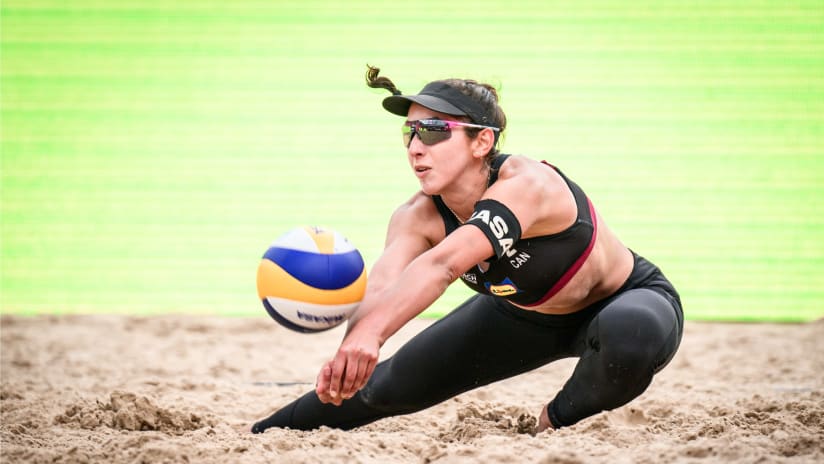 Beware, Barbara and Carol: Sunday could very well feature a hangry Melissa Humana-Paredes.
We kid. Maybe. Time will tell. It is an unquestionable fact that the Canadian defender is one of the sweetest people in the world, and certainly one of the kindest in beach volleyball. But it also became known on Saturday evening in Jurmala that Humana-Paredes has depleted her supply of snacks for her and Sarah Pavan's extensive Euro-trip. There's just no telling what the response could be.
Thus far, however, even a properly fed and typically beatific Humana-Paredes has been a devastating force to all teams hailing from Brazil. Four times have the Canadians matched up with a Brazilian duo; four times has that duo been put away.
On Saturday alone, two Brazilians fell to Humana-Paredes and Pavan, beginning with Talita Antunes and Rebecca Cavalcanti in the quarterfinals, then Duda and Ana Patricia in the semifinals. The latter at least did something none of their countrywomen were able to, winning the first set, 21-18, before succumbing in the final two, 19-21, 10-15.
That wake of Brazilian victories has set up the potential for, incredibly, one more for Humana-Paredes and Pavan, as the seventh-seeded Canadians will play Barbara and Carol for gold on Sunday afternoon.
"We've played four Brazilian teams so far and tomorrow we'll play a fifth one in the finals!" Humana-Paredes wrote on Instagram following their momentous win over Duda and Ana Patricia.
The finals stage is one to which the Canadians are well-accustomed. In their previous five tournaments – World Tour Finals, AVP Austin, Rosarito Elite16, Ostrava Elite16, Jurmala Elite16 – this will be the third time they'll be playing for gold. Yet for all that success, it has been more than two years since they've stood atop the podium, dating back to the 2019 Vienna Major.
There has been no such gold medal drought for their opponents in Sunday's final. Twice in this season alone have Barbara and Carol won gold, beginning with the debut event for Volleyball World at the Tlaxcala Challenge in mid-March. Three events later, in Doha, they won gold again. Now, after a 21-17, 13-21, 15-8 semifinal win over Americans Sara Hughes and Kelley Kolinske, they are in the finals once more.
"Send that good energy to our team this Sunday," Carol wrote on Instagram.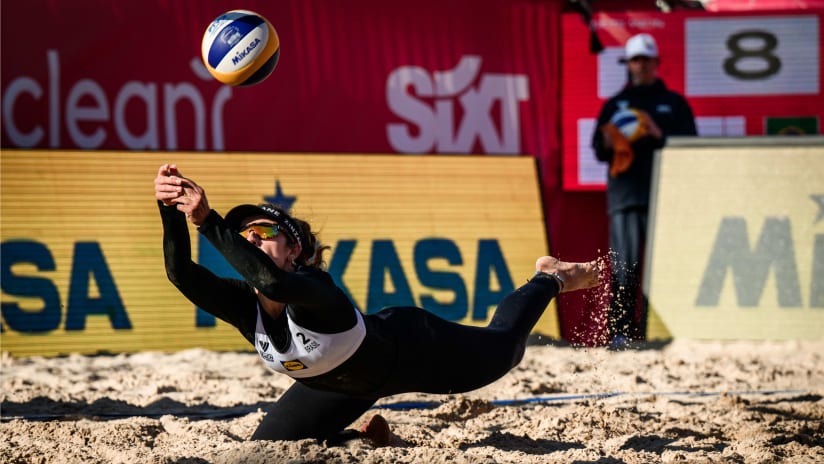 Their energy is a seemingly tireless one. Three of their five matches in Jurmala have gone the full three sets, including both on Saturday, and they've won all of them. After walloping Americans Kristen Nuss and Taryn Kloth, 21-11, in the first set of the quarterfinals, they fell in the second, 18-21. No matter: They responded with a 15-12 third set win.
In the semifinals, they met a familiar foe in Kolinske and Hughes. It was Kolinske and Hughes who ended their run at home in Itapema in April, winning 21-14, 21-23, 15-12. After losing the second set in the semifinals, 13-21, it appeared as if this could have been a re-run of the same episode. Not so: They responded once more in the third, winning 15-8.
Now they'll have one more match, against a potentially hangry Canadian team, one who might not be literally starved of food, but one who is certainly hungry for a gold medal.
Duda and Ana Patricia, too, are hungry for a podium finish. Playing in just their third tournament as a team, they have been left out of the medal rounds this year, finishing fifth in Rosarito and ninth in Ostrava.
"I'm very happy and counting on your support," Duda wrote on social media. "Let's go."