Van de Velde, Varenhorst finding stride at the right time in Jurmala Elite 16
Steven Van de Velde and Christiaan Varenhorst are thriving in Jurmala, peaking at just the right time
Pubblicato 04:51, 04 giu 2022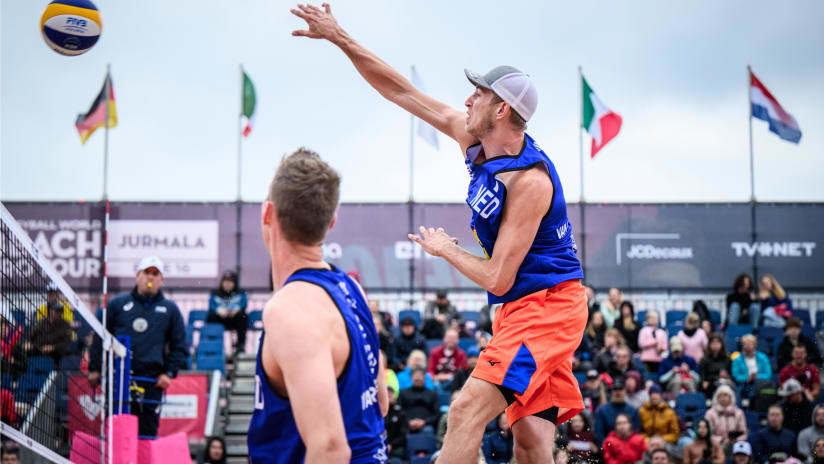 The focus in Jurmala for this weekend's Elite 16 is a singular one for Steven Van de Velde: "To win."
"Always aim for the highest, as they say," he added. "Right?"
Indeed. Winning was something that became almost second nature to Van de Velde and Christiaan Varenhorst throughout the 2021 season. The two put together a scintillating run, with five straight top-10 finishes to begin the year, including a bronze medal at a four-star in Sochi, Russia. Another bronze medal followed, at the World Tour Finals in Cagliari, Italy, where they knocked off one Olympic team after the next: Jake Gibb and Taylor Crabb, Daniele Lupo and Paolo Nicolai, Martins Plavins and Edgars Tocs, Cherif Younousse and Ahmed Tijan, then Lupo and Nicolai once more for the medal.
There was little doubt among most that they'd enter the 2022 season as one of the favourites to finish tournaments standing atop podiums. Yet prior to this weekend, it has been a strangely quiet season for the team that appeared so indomitable for such large stretches of time in 2021. They finished ninth in Itapema, winning one match in pool play, then dropped to 17th in Doha, falling in a lucky loser match to countrymen Leon Luini and Ruben Penninga who are, it must be noted, playing excellent volleyball. In Ostrava last week, they played just a single match, losing in a hurry to Evandro and Alvaro, 12-21, 17-21.
It gets old, that losing.
Van de Velde and Varenhorst have rediscovered their hard-hitting swagger in Latvia, bruising their way to three straight wins, over Nicolai and Sam Cottafava, Lupo and Alex Ranghieri, and Aleksandrs Samoilovs and Janis Smedins. Those three wins surpass their total in the previous three events combined.
"It's the same routine, over and over," Varenhorst said. "Get some food, get some rest, prepare for the next match. Nothing too special."
Their undefeated run thus far in Jurmala sets them up for a quarterfinal match with Estonia's Kusti Nolvak and Mart Tiisaar, who broke pool after beating Austria's Phillipp Waller and Robin Seidl and picking up a forfeit from Noway's Anders Mol and Christian Sorum, who withdrew due to injury.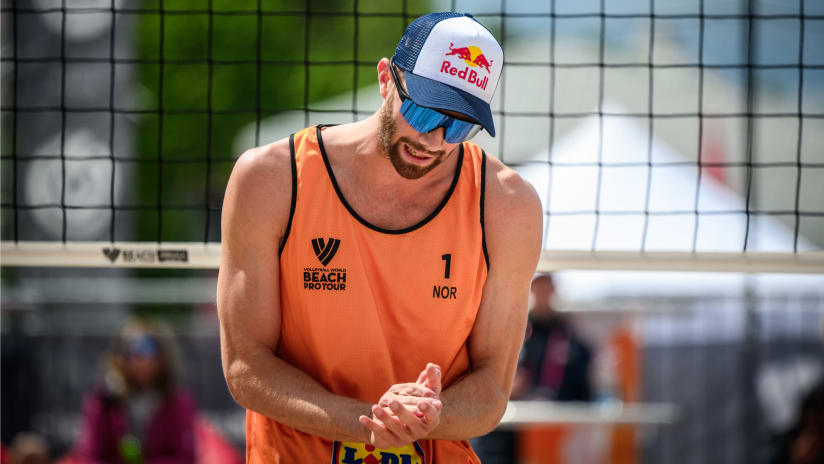 Regardless of the results of that quarterfinal, Van de Velde and Varenhorst are guaranteed their best finish of the 2022 season. Not that either would be satisfied with a fifth or fourth or medal of any color that isn't gold.
"I would celebrate with another win," Van de Velde said when asked if the two have any particular celebratory routine after a successful tournament. "The reward comes after the tournament."
The reward for almost everyone in Jurmala, regardless of their finish here, is a trip to Rome, for next week's World Championships. That's the biggie, the one for which everyone is striving to peak. Yet as Van de Velde mentioned, one cannot overlook the tournament at hand, and there is a daunting field ahead.
Cottafava and Nicolai will match up with Americans Theo Brunner and Chaim Schalk, who are also guaranteed the best finish of their season, and their partnership as a whole. There is an all-Brazil matchup between Andre Loyola and George Wanderley, and Alison and Guto. And, of course, there are the Qataris, Samba and Tijan, hot as ever, matched up with Germans Nils Ehlers and Clemens Wickler.
There is, in other words, a field with a similarly singular mindset: To win. To always aim for the highest.