Brouwer-Meeuwsen looking to get over 'haunting' miss in Hamburg with gold in Paris
Alex Brouwer still hasn't forgotten a swing on match point in Hamburg. He's seeking to redeem himself with a win in Paris
Pubblicato 04:20, 01 ott 2022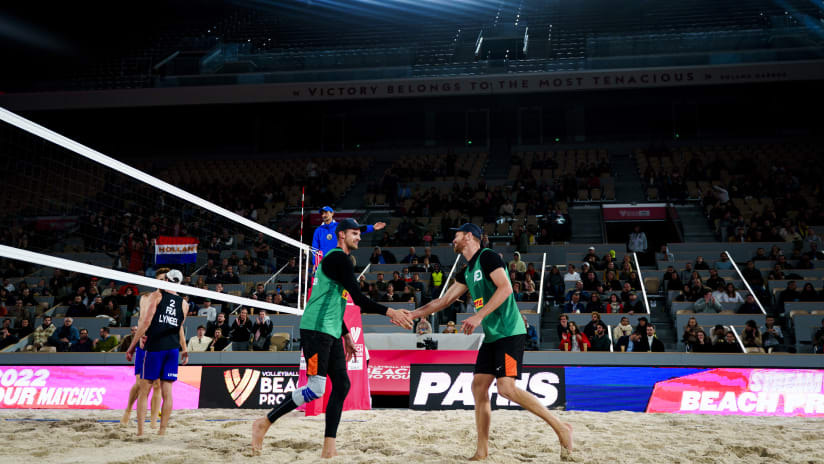 Nearly two months later, Alex Brouwer still can't forget about it.
"I had one match point on the left side," Brouwer said, referencing the epic 18-21, 21-16, 27-29 Hamburg Elite16 finals against Bartosz Losiak and Michal Bryl. "And it's still haunting me."
Those demons were, at the very least, partly exorcised on Friday afternoon in Paris. Again, Brouwer and Meeuwsen met Poland, and again, it was an epic, a 21-19, 16-21, 19-17 win that helped boost the Dutch into the top spot of pool at the Paris Elite16. Losiak and Bryl would later win their final match, against Australians Mark Nicolaidis and Izac Carracher, finishing second in pool. They'll play Norway's Anders Mol and Christian Sorum in the quarterfinals on Saturday.
"We had a really good game with the Polish guys this afternoon and now, especially at the end, the machine started rolling," Meeuwsen said. "Happy with the level and really looking forward to the quarterfinals tomorrow."
In Saturday's quarterfinals, they will see Spain's Adrian Gavira and Pablo Herrera, a familiar foe and one of the few partnerships in the world who are giving the Dutch a contest in terms of longevity as a team. They've played just once this season, however, in the bronze medal match in Ostrava in May, where Brouwer and Meeuwsen won, 25-23, 21-19. And if you think the fact that Brouwer and Meeuwsen came out of pool unscathed would bolster their confidence, think again.
"Now we've won our pool and one of the dangers for us as a team is as soon as we think we are playing really good, we have to be careful," Brouwer said, although it's certainly worth noting that the last time they won pool, in Hamburg, they made the finals. "Recharge, recover, then tomorrow, the quarterfinal."
Joining them undefeated in the quarterfinals are Mol and Sorum, victors of Pool B, and Qatar's Cherif Younousse and Ahmed Tijan. Mol and Sorum began with a win over fellow Norwegians Hendrik Mol and Mathias Berntsen before defeating both Chilean teams, Esteban and Marco Grimalt, and Noe Aravena and Vicente Droguett. Cherif and Ahmed, meanwhile, competing for the first time since taking consecutive ninths at the World Championships and the Gstaad Elite16, recorded tightly-contested wins over Arnaud Gauthier-Rat and Youssef Krou, Samuele Cottafava and Paolo Nicolai, and Leon Luini and Ruben Penninga.
Claiming the top spot in Pool A was another Dutch duo in Stefan Boermans and Matthew Immers, who won a three-way tie with the Czech Republic and Spain after finishing 2-1. Herrera and Gavira came out of pool in second based on the point differential edge they held over Ondrej Perusic and David Schweiner.
Boermans and Immers, who won gold at the Agadir Challenge and finished fourth in Hamburg, will play Cottafava and Nicolai in the quarterfinals at the same time their countrymen, Brouwer and Meeuwsen, play Gavira and Herrera.
"You know it's going to be a good team," Meeuwsen said of the quarterfinal matchup. "That's also the nice thing about the format - you always play good teams and you have to be on top of your game. We're happy so far that we could win them all. You always keep pushing in some areas but I think our game is getting better and better in some areas. We'll keep pushing."