Little patience needed for Bassereau, Lyneel as they stun top-seeded Cherif, Ahmed
The new French duo of Remi Bassereau and Julien Lyneel upended Qatar's Cherif Younousse and Ahmed Tijan on Friday in the Maldives
Pubblicato 05:43, 14 Oct 2022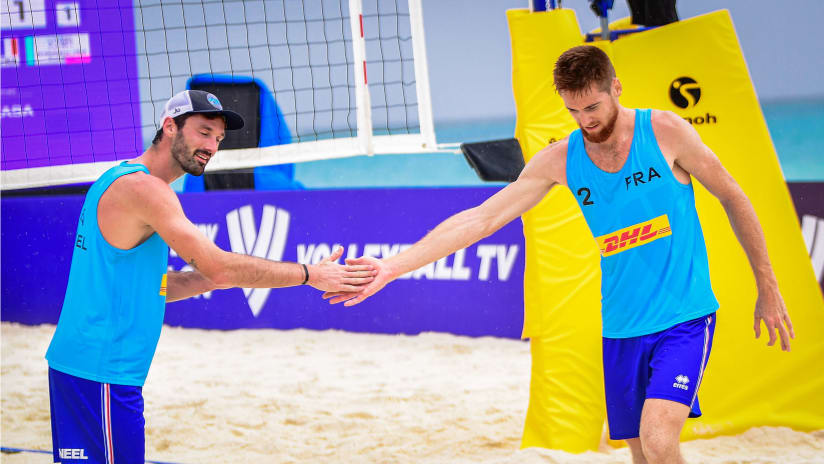 On October fifth, Remi Bassereau posted a picture on Instagram with a caption that included only a single word: Patience.
At the time, the 23-year-old blocker was three days removed from his debut as a professional beach volleyball player. He and Julien Lyneel, a 32-year-old defender who hadn't touched the sand since a youth tournament in 2007, had gone 0-3 in the Paris Elite16, yet it was, as strange as this sounds, the most impressive winless tournament a team could have had. There were flashes of brilliance in each of those losses. In their opening match, against Poland's Bartosz Losiak and Michal Bryl, they took an 18-13 lead in the second set. It didn't hold, but the fact remained: they had the ability to take a five point lead over the most dominant team on the Beach Pro Tour this season. In their second match, they pushed young Australians Mark Nicolaidis and Izac Carracher to three, and in their third, they hung with world No. 2 Alex Brouwer and Robert Meeuwsen in a tight, 18-21 first set.
If patience was what Bassereau sought, it was fair to wonder: How much patience would he actually need?
As it turns out, not a whole heck of a lot.
On Friday morning in the Maldives, Bassereau and Lyneel, wild-carded into the main draw for the second straight event, authored a seismic upset, stunning Qatar's Cherif Younousse and Ahmed Tijan, 21-18, 12-21, 22-20 in the opening round of pool play.
"First victory on the World Tour," Bassereau wrote on social media afterwards, with a pair of muscle-flexing emojis. They wouldn't get their second, falling to Italians David Benzi and Carlo Bonifazi, 21-16, 18-21, 11-15, in the final round of pool, but still: a win over Qatar? In just their second event on the sand?
That's the type of patience the French federation can live with.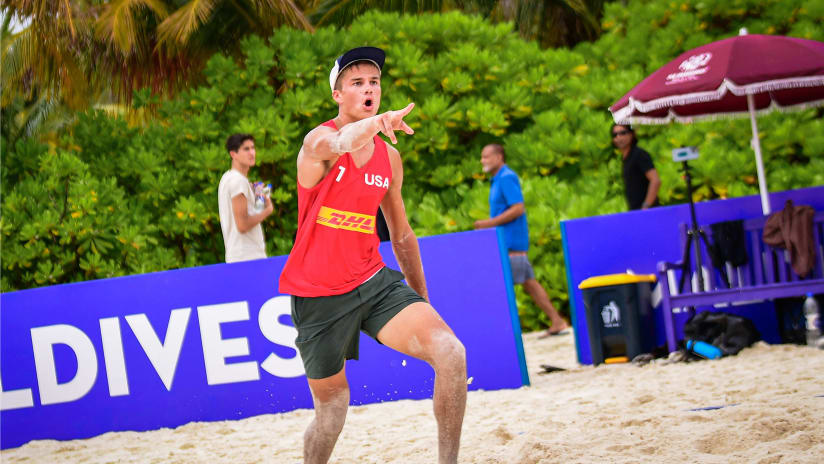 Jump-setters go undefeated on day one in the Maldives
David Ahman, Jonatan Hellvig, and Miles Partain are 20, 21, and 20 years old, respectively. And they play like it. To watch the two Swedes and American defender play is to watch an exhausting affair, one in which they are jumping at least once on nearly every single play. It took only a few tournaments for Ahman and Hellvig to be aptly dubbed the "Swedish jump-setters" for their creative style of play, one that involves, as you may be able to ascertain, an abundance of jump-setting at a level never before seen on the Beach Pro Tour. In the United States, Partain stands alone in his ability to do the same, driving defences positively mad on the AVP Tour with his ability to option from virtually anywhere on the court – or set it at the last possible moment.
That style has led to immense success for all three: a European Championship and a gold medal at the Kusadasi Challenger for Ahman and Hellvig, an AVP title in Atlanta for Partain. In the Maldives, all three finished pool play undefeated, without a single set lost. Ahman and Hellvig swept Austrians Lorenz Petutschnig and Florian Schnetzer, 21-14, 21-11, and Americans Chase Budinger and Troy Field 22-20, 21-16. Partain and Andy Benesh, partnered together for the first time, swept Carracher and Nicolaidis – the very team who knocked Benesh and Miles Evans out of the Paris Elite16 – 21-18, 22-20, and followed it up with a dominant 21-11, 21-11 win over Switzerland's Yves Haussener and Quentin Metral.
"Finally," Benesh said about his partnership with Partain, "I don't have to decide whether to jump or not."
Until, of course, they match up with Sweden, in a match that will be must-see television.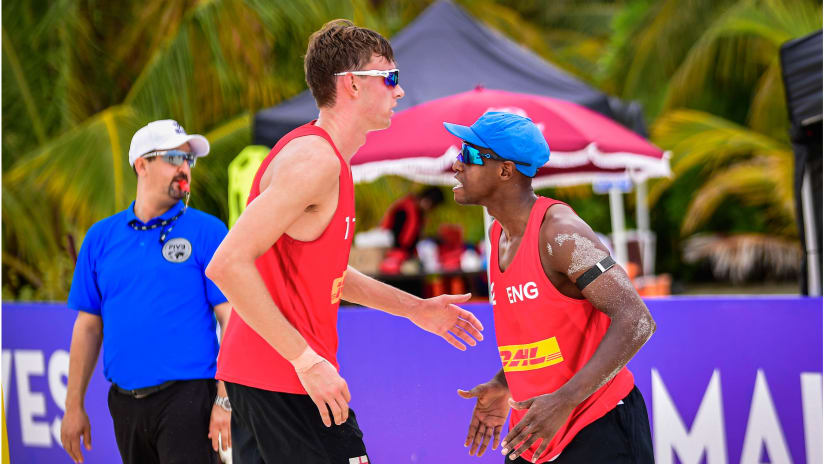 Day one of the Maldives Challenger goes to the qualifiers
Miles Partain and Andy Benesh, seeded ninth in Thursday's qualifier, were only one of three teams who began in the qualifier and finished Friday atop their pools. Austrians Moritz Kindl and Mathias Seiser, the rare double-lefty combo who were seeded seventh in the qualifier, upset Germans Lukas Pfretzschner and Robin Sowa, 21-8, 15-21, 15-9, then followed it up with a sweep over Lithuania's Audrius Knasas and Patrikas Stankevicius, 21-13, 21-12.
The battle for the top spot in Pool E wound up being a matchup between a pair of qualifier teams in Americans Evan Cory and Logan Webber, and England's Issa Batrane and Freddy Bialokoz. Cory and Webber won both of their matches on Friday, over Mexico's top pairing in Juan Virgen and Miguel Sarabia 21-13, 24-22, and followed it up with a 22-20, 21-18 over Batrane and Bialokoz, who had previously upset Italy's Alex Ranghieri and Marco Viscovich.
Interestingly enough, the team most would have expected to emerge from the qualifier and win pool, Evandro and Vinicius of Brazil, failed to do just that, falling in the second round to Ukraine's Sergiy Popov and Eduard Reznik, 21-14, 21-14.